X Marks the Spot?!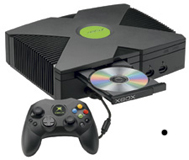 See that little black dot? That's me trying to put the CD in.
Ever since I failed to play
Star Wars: Knights of the Old Republic
on the PC (due to hardware incompatibilities), I've been thinking of getting Microsoft's big black box. It's basically a PC that's meant purely for gaming, watching dvd movies, and playing MP3s. The only gripe I have with the box is their games. I know it's supposed to be THE major thing but what I have against it is really just minimal. Since it's an American product, unlike the PS2 who's roots are from Japan, most games are American produced! No offense, but most of their games are FPSs, which I don't really dig. There are exceptions though on FPSs. There are good games like Ninja Gaiden which kind of strengthened my yearning for the Xbox. Well, let's see if time will be able to answer the all-important question of the moment...
an airconditioning unit or an Xbox?!
... rainy season's coming so that may make decisions easier...Hehehe!